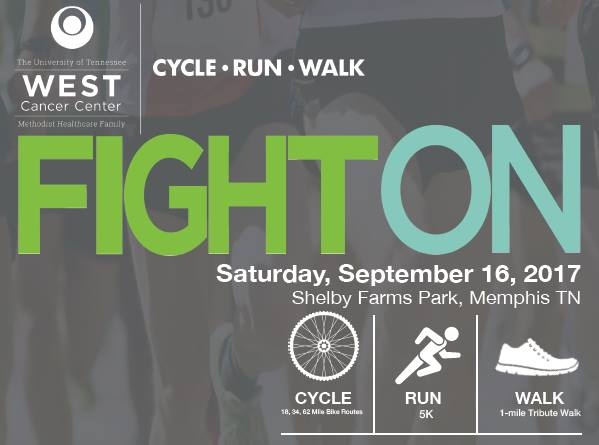 West Fight On: Cycle. Run. Walk. Returns September 16, 2017
MEMPHIS, TENN., April 10, 2017 – The date is set and registration is open for West Cancer Center's signature fundraising event. West Fight On: Cycle. Run. Walk. will return on Saturday, September 16, 2017 at Shelby Farms Park. Funds raised by the event will support The University of Tennessee/West Institute for Cancer Research, the non-profit fundraising arm of West Cancer Center.
"What began as a small, community cycling event five years ago has grown into a vision that has surpassed all of our expectations," said Brad Somer, MD, Medical Oncologist at West Cancer Center and one of the co-founders of the event. "And while our central goal remains to raise the critical funds necessary to support innovative research and comprehensive patient services, our hope is that we can continue to engage more community members as participants in the event and advocates for our cause."
With components ranging from cycling routes at three distances to a 5K run and a one-mile Tribute Walk, the September event provides a full suite of fitness activities for the entire family that culminate in a special Survivor Ceremony in the Celebration Village. Should individuals be unable to attend or decide to forego a fitness activity, they can also register as a Virtual Participant. In addition, the 2017 event also introduces a new "combination" component, featuring the 18-mile cycling route and the 5K run.
Regardless of the registration type, the call to action for the community is clear: to raise funds – and awareness – in the face of cancer.
"While this event is focused on various fitness components, the intent is much bigger," said Stephanie Simpson, Vice President of Administration at NewSouth Capital Management, Inc. and this year's event chair. "We see this as a movement – a mobilization of all members of our community in the fight against cancer. It is almost impossible to find someone who has not been impacted by this disease. On September 16, join us as we celebrate, remember and fight on to raise the necessary and critical funds to support cancer patients, right here in the Mid-South."
Simpson leads a group of 15 volunteers and community members who comprise the event's 2017 steering committee. Featuring business professionals and community leaders from both the for-profit and not-for-profit sectors, the committee members represent a diverse group of backgrounds steadfastly united in a common goal: to fight cancer in our community.
"Central to this event model is a grassroots effort to infiltrate and reach all sectors of our community to raise awareness for this critical cause," said George Monger, Chief Operations Officer for the Memphis Symphony Orchestra and a member of this year's steering committee. "Some of us have lost loved ones to cancer; others have been personally impacted. Regardless of our connection to this disease, we represent a cross-section of community members united in a singular mission. And we are asking the community to join us in that fight."
Registration is now open for the 2017 event. Through May 15, participants can take advantage of special discounted pricing as part of the event's early bird promotional phase. Once registered, participants are equipped with numerous tools and resources to share their participation – and fundraising goals – with their family, friends and community. This information is available in detail on the Cycle. Run. Walk. website, www.westfighton.org.
The 2017 West Fight On: Cycle. Run. Walk. is sponsored by Highland Capital Management, LLC and Men Fighting Ovarian Cancer. For any questions regarding registration and/or fundraising for West Cancer Center, contact WestFightOn@westclinic.com.