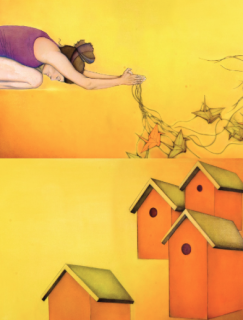 ARTIST: Pam McDonnell
TITLE: "Oneing" 
Location: 2nd Floor – East Atrium Wall
Throughout Asia, cranes have symbolized happiness with good fortune and eternal youth. Pam McDonnell was impacted by a story about a girl named Sadako Sasaki who survived an explosion in Hiroshima, but later developed leukemia and began making origami cranes while in the hospital. Ancient Japanese legend holds that anyone who folds one thousand paper cranes, senbazuru, will be granted a wish. Inspired by this, Sadako set out to fold one thousand cranes. Sadako wrote, "I will write peace on your wings, and you will fly all over the world."
Inspired by the little girl's story and also the story of McDonnell's sister who also had leukemia, she created "ONEING: We are All A Part of the Same Thing". This oil painting is first and most importantly about hope and the importance of community support. On another level, it is also about fearlessness and letting go. Everything McDonnell learned from her sister's loving and optimistic life is mysteriously alive in this work of art.



Sponsorship Opportunity
All pieces listed in the gallery are available for sponsorship unless otherwise noted and are 100% tax deductible. These sponsorships serve to provide peace and healing for our patients and can be purchased in honor or memory of a loved one. To sponsor one of these beautiful works of art or for more information, please contact Leighanne Soden at 901.683.0055 x 1122, or [email protected].