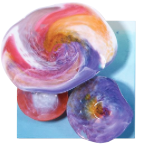 ARTIST: Rick and Janet Nicholson 
TITLE: "Serenity at Dusk "
Location: 2nd Floor – West Atrium Wall
Dedicated in Memory of Mindy
Glass artists, Rick and Janet Nicholson, are primarily drawn to the flow of color and the emotions they awaken. "Serenity at Dusk" invokes the calming effect of viewing the setting sun in the early evening. From cool serene blends to exciting pops of color, the Nicholson's blown glass offers unique landscapes pulsing in vibrancy and variety. 
The glass intends to bridge the flow between the two Jimpsie Ayres' "Fly I, Fly II" paintings positioned on either side, which ultimately inspired the creation of "Serenity at Dusk". Exploring color through glass is a continually inspiring journey that Rick and Janet enjoy sharing with their viewers.

Sponsorship Opportunity
All pieces listed in the gallery are available for sponsorship unless otherwise noted and are 100% tax deductible. These sponsorships serve to provide peace and healing for our patients and can be purchased in honor or memory of a loved one. To sponsor one of these beautiful works of art or for more information, please contact Leighanne Soden at 901.683.0055 x 1122, or [email protected].