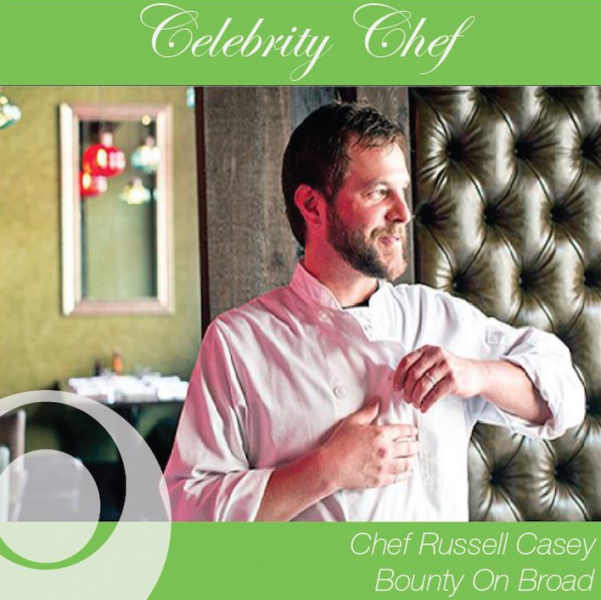 Chef Russell Casey is Executive Chef and General Manager at Bounty on Broad – Memphis' first farm-to-table restaurant located in the historic Hanover pharmacy building.
Tomato Gazpacho Recipe
6 eachMedium-sized Heirloom Tomatoes, concassed
4 cups Watermelon, seedless and "chunked"
5 eachMedium-sized Shallots, peeled and diced
2 eachCucumbers, peeled and seeded
1 eachJalapeno, seeds removed and diced
2 each Medium-sized Red Bell Peppers, diced
4 eachGarlic Clove, peeled and chopped
1 eachV-8 Juice, 12 oz bottle
2 eachLimes, juiced
2 tblsTamari or Soy Sauce
1 cupSherry Vinegar
1 cupExtra Virgin Olive Oil
¼ tspCayenne Pepper, ground
1 tspCumin, ground
2 ozFresh Mint, chopped
2 ozFresh Basil, chopped
2 tblsKosher Salt
To concasse the tomatoes:
Bring a medium sauce pot of water to a rapid boil.
Fill a separate container with ice water.
Cut the core off of the tomato.
"X" the bottom of the tomato. This will allow east skin removal.
Drop the tomatoes into the boiling water for 1 minute.
Transfer tomatoes to the prepared ice bath. Allow to cool.
Peel outer skin off of the tomatoes and discard.
Remove seeds from tomatoes by gently squeezing and using the backside of the knife.
Dice the tomato "flesh" into chunks.
Peel the cucumbers, cut in half lengthwise and use a spoon to remove the seeds. Discard the seeds.
Remove the rind and skin from the seedless watermelon and cut the flesh into chunks.
Using a "vita prep mixer" or a "stick hand-held blender", puree all of the remaining ingredients together in a non-reactive container.
Puree in batches, if necessary, until smooth in texture.
Transfer to a non-reactive mixing bowl for a final whisk to ensure that all ingredients are well-incorporated. 
Check the final product and add extra salt and cracked black pepper if desired.
Allow of sit refrigerated for at least 4 hours or overnight before serving.
Chef suggests fresh avocado, extra chopped mint and basil and lime wedges for garnishes if desired.