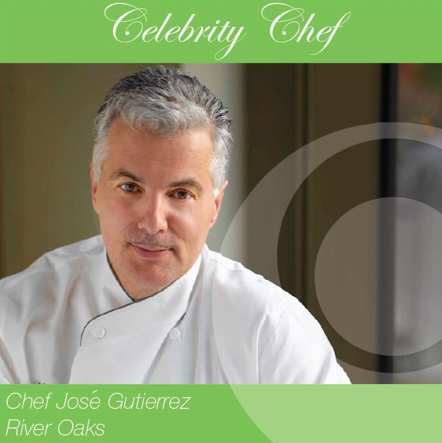 Chef José Gutierrez first brought his talent to Memphis – serving as a chef at the Peabody Hotel's Chez Phillipe where he hosted "master nights" for guests such as Julia Child. In 2005, Chef José and his wife Colleen, opened Encore Restaurant and Bar and in 2010, they took ownership of River Oaks. Over his career, he has been named Master Chef of the Year, Ivy Award Winner by Restaurant & Institution Magazine, "America's Best New Chef" by Food & Wine Magazine, and several more.
Watermelon Salad
4 slices Seedless Watermelon, cut into circles
2 cups mixed Cherry Tomatoes, cut in half
4 tbsp Basil Oil
½ Cucumber, peeled and cut into cubes
2 tbsp Balsamic Reduced Vinegar
¼ cup chopped Toasted Pistachios
4 Fried Potato Lace
Salt to taste
Place Watermelon circle in middle of plate.  Sprinkle with Salt.
Top with mixed Tomatoes and Cucumber cubes. Sprinkle with Salt to taste.
Drizzle with Basil Oil, Pistachios and Balsamic Vinegar.
Top with Potato Lace.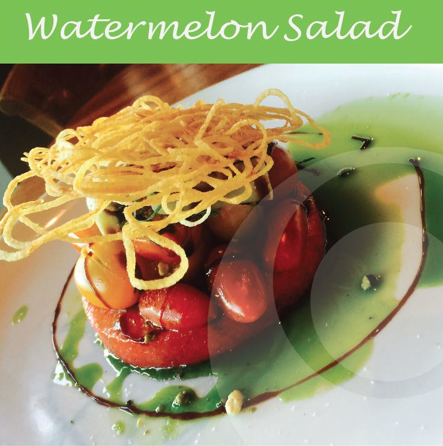 Wild Red Snapper with Blood Orange Buerre Blanc
4 Six oz Filets of Red Snapper
1 cup Olive Oil
4 Shallots
3 Spring Thyme
1 tbsp Horseradish
1/3 cup Cream
8 oz Butter
1/3 cup Dry White Wine
Salt to taste
2 bulbs Fennel, sliced thin
1/3 cup Cerignola Olives, sliced
16 Potato cubes
Garnish:
½ cup Microgreens
1 Blood Orange Juice
In saucepan, add Shallots, Springs Thyme,  Horseradish, Cream, Butter, ½ cup Blood Orange Juice, Dry White Wine.
Reduce to half. Add Cream and reduce again.
Whisk the Butter and add Salt to taste. Pass through a chinois and set aside.
Saute Fennel with 2 tbsp Olive Oil until tender.
Add Fish and cook until golden.
Fry Potato cubes in remaining Olive Oil until tender and golden. Drain.
Place Fennel and Potatoes on plate. Place Fish Filet on top and cover with sauce.
Sprinkle with Microgreens.
Top with 2 pieces of Blood Orange.