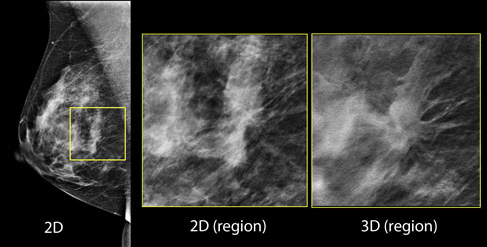 3D Mammography, or Tomography, helps detect breast issues earlier. This is a technique that provides three dimensional images of the breast and offers incredibly sharp images of the breast, so doctors can more accurately identify even the smallest abnormalities for a quicker diagnosis. 
Benefits of 3D Mammography
Conventional Mammography shows your breast tissue in one flat image, but tomography creates a 3D image of your breast tissue in one millimeter slices. The radiologist can scroll through the images like pages of a book and see greater detail. Benefits include: 
Detection and review of abnormalities missed in 2D mammography 
Better understanding of overlapping breast tissue, which sometimes causes normal tissue to look abnormal in a 2D image. 
Lower chance that your doctor will call you back for a "second look". 
Allows for quicker evaluation 
How 3D Mammography Works
3D Mammography is performed at the same time as the standard 2D mammogram. No additional compression is required, and it takes just a few more seconds for each view. During the 3D part of the exam, the X-ray arm sweeps over your breast, taking multiple images. As with traditional mammograms, 3D mammograms use only very low X-ray energy.