About Our Program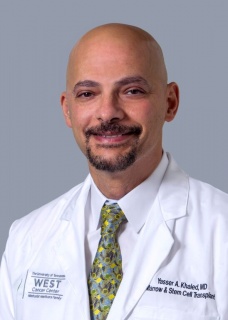 The Blood and Marrow Transplant (BMT) Program, a collaboration between West Cancer Center, Methodist Healthcare, and the University of Tennessee, utilizes a multidisciplinary team approach for the care of transplant recipients throughout the transplant continuum. BMT physicians and staff collaborate with patients and their families to provide high quality, cost-effective, patient- and family-centered care. The BMT program strives to continually improve hematopoietic progenitor cell (HPC) transplantation care by education and professional growth of team members and by participation in clinical trials.
Yassar Khaled, Director, Blood and Marrow Transplant Program
What We Offer
The Blood and Marrow Transplant Program is a collaboration between Methodist Healthcare, West Cancer Center, and The University of Tennessee. The BMT Program offers Stem Cell Transplantation and Cellular Therapy for a variety of hematological malignancies. Stem cell transplantation is performed using all donor sources, including Autologous (person's own stem  cells) and Allogeneic (donor stem cells). Allogeneic transplants include those using conventional donors (matched siblings and fully matched unrelated donors) as well as alternative donors  such as mismatched unrelated donors, haplo-identical (half-match) relative, and cord blood transplants.
Conditions Treated:
Bone marrow failure syndromes/Aplastic anemia
Leukemia/Myelodysplastic syndromes
Lymphoma
Multiple Myeloma