A typical first visit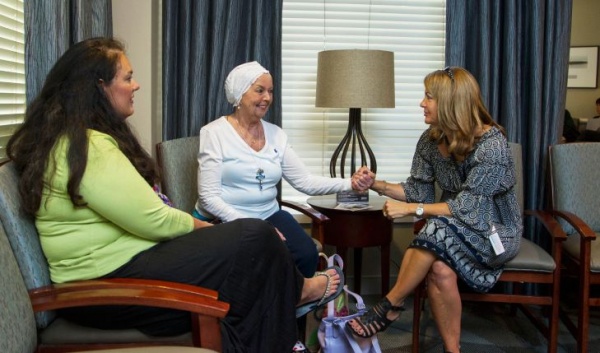 Enter and check in
When you enter our building, the first thing you need to do is check in for your appointment. There are signs located inside the front entrance telling you which way to go. We do have a designated patient drop off at each entrance and wheelchairs available at the front door. If you need additional assistance or directions, look for our staff or designated volunteers stationed in or near the lobby. They will be happy to help.
Patient Care Monitors
After you have checked in, you will receive an electronic tablet, called a PCM, or Patient Care Monitor. You will need to register yourself in the system. The PCM will then automatically start the survey which consists of a list of symptoms that you rate on a scale from 0-10, with 10 being the most severe. Please fill this out thoroughly and accurately. This survey helps your care team gather all information necessary to create your personalized care plan and address any new symptoms. The survey takes 5 minutes on average and will need to be completed before each office visit. The information from the survey is part of your complete medical record. Please return your tablet to the Check-In desk when you have finished.
Patient Ambassadors
We have Patient Ambassadors and Volunteers who will be available to you for questions and support while you wait to be seen. Please do not hesitate to call on them for assistance.
Have your blood tests, if required
You will be informed if you need simple blood tests performed ahead of your office visit. If needed, our phlebotomists will contact you in the waiting area when they are ready.
Meet with your Care Support Coordinator
If your appointment is cancer-related, you may meet with a Care Support Coordinator. Your Care Support Coordinator is here to provide you and your loved ones with proactive service, assist with any questions and concerns that may arise, and help address any barriers you may experience in your journey. Some of the barriers to care are transportation, financial, education, language, and cultural. Our Care Support Coordinators work closely with your care providers and serve as your liaison between visits to the clinic. They will remain a constant touchstone for you and your loved ones throughout your journey here at West Cancer Center.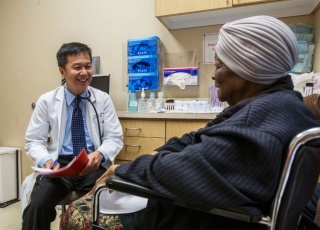 Meet with your Health Care Team
Once in the exam room, members of your Health Care Team will conduct an assessment examination and ask general questions regarding your symptoms, allergies, and medications. Your doctor will review your medical history, perform a physical examination, and discuss any test results. The doctor will explain your treatment options and answer any questions you may have.
Your care plan is a combination of your doctor's recommendations and your own health decisions. Your trust in your care team is especially important to this process, so we want to make sure that we provide you with all the time you need to discuss these details with your doctor.
How long will it take?
Our team is very thorough and makes every effort to provide you with the highest quality patient care. Our doctors take their time conducting needed tests and thorough examinations as well as answering patient questions. Because of the comprehensive nature of our services, it is not uncommon to have more than one appointment at our office on a given day, which could extend the time you spend with us. While this may mean extra time in the waiting room, it also means that you can feel confident that you are receiving the highest quality of individualized and comprehensive care.
Next steps
Further testing
If you need further diagnostic testing, our staff will assist you in scheduling these tests.
Test results
Test results will be available within days, and are generally discussed in any Follow-Up appointments. If your Health Care Team feels your results are critical to your health, they will contact you as soon as possible.
Your Diagnosis
Staying informed can make a great difference in the care you receive. Once you have been given a diagnosis, please visit our Education Center to learn about what to expect and what treatments may be offered here at West Cancer Center for your particular cancer type.
Your Support
Your care plan involves much more than medical treatment. As a West Cancer Center patient, you have access to Support Services for the mind, body, and soul. Visit our Support Services section to learn more about what is offered at West Cancer Center.