Salary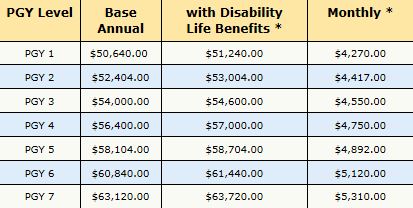 *In addition to the base salary, those residents participating in the disability and group life insurance programs provided through GME currently receive an additional $600 per year for disability and life insurance benefits as shown above in Column 3.
For more resident salary information, please see GME Policy #210.
Fringe benefits include:
Educational Stipend – $1,500 is provided each year for attendance at one of the national conferences. Additionally, you will be awarded a one-time only presentation scholarship of $500 from GME if you are presenting a poster or abstract at a national conference.
Health Insurance – as provided by UTHSC
Malpractice and Disability Insurance – covered by the State of TN
Access to Recreational Facilities
A Tennessee medical license is not required for residency-related activities. An institutional permit covers residents
Annual Vacation
Residents may take up to three (3) weeks of annual leave per year. Annual leave is not accumulated from year to year. Residents do not receive pay for unused annual leave.
Educational Leave
Educational leave can be taken during residency with approval from the Program Director.
Sick Leave
Residents accumulate three (3) weeks of sick leave per year. Sick leave is non-cumulative from year to year. Residents are not paid for unused sick leave.
Parental Leave
Parental leave is available to residents for the birth or adoption of a child. Sick leave and annual leave may be used in order for the resident's salary to continue. Additional time is permitted with the approval of the Program Director and will be leave without pay. Due to ABIM rules, time off may delay completion of the residency.