Surgical Clinical Oncology Lectures
Fellows participate in a weekly one-hour Grand Round didactic session.  Fellows will also have the opportunity to organize the monthly journal club where new articles are presented. The fellows will also organize the monthly Surgical Oncology Case Conference to give opportunities to discuss a wide variety of interesting cases and surgical approaches.
Multi-Disciplinary Conferences
The UTHSC Surgical Oncology Fellows will attend the Multidisciplinary Tumor Conferences at West Cancer Center (two to three times weekly).
The first year surgical oncology fellow will attend the conferences delineated in the schedule below.  The tumor specific conferences vary in their regularity from once a month to weekly.  When there is a conflict the fellow will prioritize attending the conference most applicable to the service to which they are presently assigned.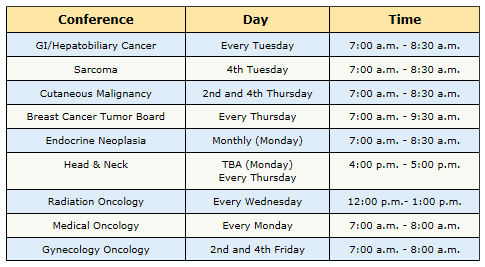 Morbidity and Mortality Conferences
Every week fellows will attend the Morbidity and Mortality conference. This closed departmental meeting provides that opportunity to discuss patient care and treatment options. The fellow will present cases at this meeting if there are any significant morbidity or mortality occurrences in patient care.