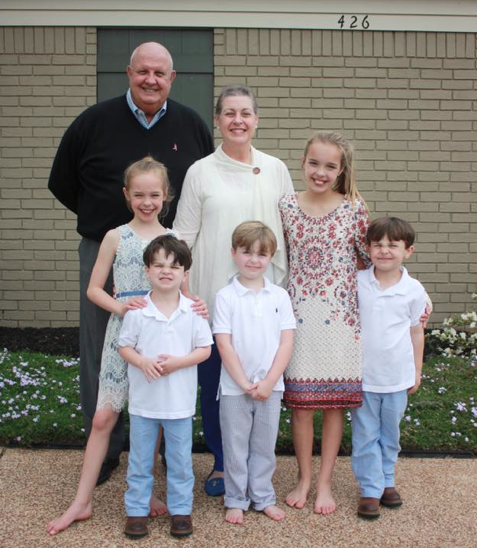 When Pam retired in May 2015, she knew she was embarking on a new chapter in her life. She had plans to relax and enjoy her days playing with her five grandchildren – not fighting cancer. 
Following an annual mammogram in August, an MRI scan revealed Pam had two malignant tumors – one in each breast. Surrounded by her family, friends and church congregation, she knew she wasn't in this fight alone. She built relationships with other patients during countless rounds of chemotherapy in which she shared many laughs, tears, stories and moments that will last a lifetime. 
"When you walk through the doors of West Cancer Center, you immediately feel a sense of connectivity to those fighting the battle of their lives alongside you."
Pam tested positive for high levels of HER2 – proteins which promote the aggressive spread of cancer cells. Since this type of breast cancer doesn't respond well to hormone therapy, her team at West Cancer Center worked with her to create the most individualized treatment plan – one using targeted therapy drugs aimed at shutting down the HER2 protein, thus halting the cancer cell growth. A HER2-Positive diagnosis with no previous family history of breast cancer, Pam became aware of the importance of early genetic testing. She now avidly encourages anyone at risk to take advantage of the opportunity for early detection. 
"When you have access to genetic testing – potentially saving the lives of your children and grandchildren – you do it."
Meet Our Fighters
These are real stories of bravery, the chronicles of men and women who found the strength to fight on and the people who stood by them. West Cancer Center brings the very best technology, research and doctors to Memphis so patients can recover close to home. To read more stories like Pam's, click here. 
Share Your Story
With every fighter there is a story, and with every story, an inspiration to fight on. Your story can be the difference in the life of another cancer fighter like you. We invite patients of the West Cancer Center, past and present, to share stories here. If you would like to share your story, please contact West Cancer Center's Marketing Department.