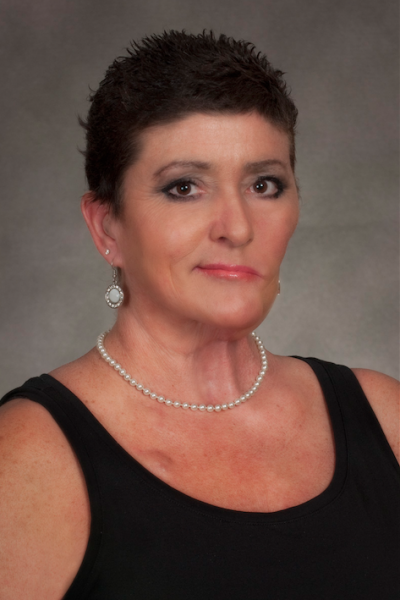 In 2007, Sonya went in for a regular dental cleaning and noticed an abnormal white patch on the inside of her left cheek – an abnormality that a biopsy determined to be simply a common skin rash. Seven years later, however, a significant change accompanied by severe headaches led her to return to her oral surgeon for a re-evaluation. She was immediately referred to Courtney Shires, MD, Head and Neck Surgeon and member of West Cancer Center's faculty, who diagnosed her with Stage 4 Squamous Cell Carcinoma. Due to the uniqueness of Sonya's case and the nature of her diagnosis, Dr. Shires presented the case to the Head and Neck Tumor Board, a collaboration of physicians from different specialties who evaluate complex cases and provide a collective recommendation for the course of treatment. 
Following much evaluation, discussion and collaboration, Moon Fenton, MD, a Medical Oncologist and Head and Neck specialist at West Cancer Center, prepared a treatment plan for tumor removal, chemotherapy and radiation. Sonya proceeded to undergo a seven-hour surgery performed by Dr. Shires to remove the tumor, followed by six rounds of chemotherapy and 30 rounds of Radiation under the care of Matthew Ballo, MD, Director of Radiation Oncology at West Cancer Center. Unfortunately, shortly after completing treatment, the cancer returned. Dr. Fenton and the rest of Sonya's healthcare team immediately devised a second treatment plan which consisted of a 20-hour surgery to remove the entire left side of her face – including her jaw bone and teeth. Uzoma Ben Gbulie, MD, a UT Medical Group Plastic Surgeon replaced Sonya's jaw bone with Titanium and wired her mouth shut. To replace her facial skin, he took a skin graft from her thigh. 
Despite the numerous and extensive therapy selections to combat Sonya's cancer, her battle against the disease was unfortunately not over yet. In 2015, the cancer came back again – this time to her thyroid. Sonya was given one year to live if she decided to forego any treatment. Following a second opinion recommended by Dr. Fenton, Sonya proceeded with a treatment plan that included additional chemotherapy coupled with an immunotherapy combination therapy clinical trial at West Cancer Center. 
Sonya completed nine rounds of the clinical trial combination therapy, which slowly caused the loss of her hair but resulted in a 75-95% successful response. In June, her scans showed no evidence of disease and she is continuing to receive weekly treatments at West Cancer Center's Midtown location. In July, Sonya was named one of 25 finalists in the Memphis Business Journal's 2016 Health Care Hero Awards. As a Certified Technician at the UT Hamilton Eye Institute, Sonya provides hope for her patients diagnosed with eye cancer – since she knows first-hand what it's like to be in their shoes. 
"You have three choices in life: give up, give in, or give it all you've got," said Sonya. "And I'm going to keep giving it all I've got."
Meet Our Fighters
These are real stories of bravery, the chronicles of men and women who found the strength to fight on and the people who stood by them. West Cancer Center brings the very best technology, research and doctors to Memphis so patients can recover close to home. To read more stories like Sonya's, click here. 
Share Your Story
With every fighter there is a story, and with every story, an inspiration to fight on. Your story can be the difference in the life of another cancer fighter like you. We invite patients of the West Cancer Center, past and present, to share stories here. If you would like to share your story, please contact West Cancer Center's Marketing Department.