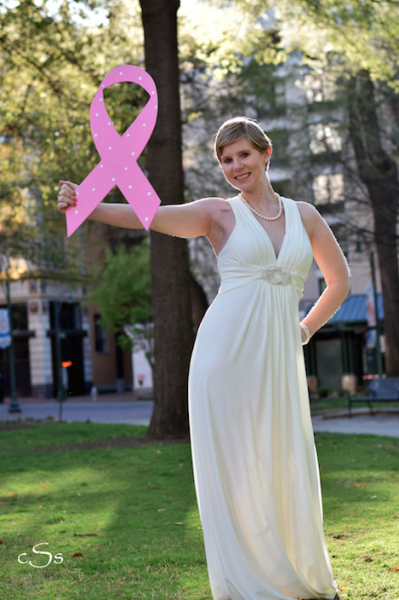 "If my story will help another young woman through her cancer journey, then I will be satisfied."
It was December of 2014 when 25-year-old Nicole Matthews-Harrison felt a lump in her left breast. Following a breast exam, mammogram and biopsy, she was given the devastating news: it was indeed breast cancer. "My only thought was 'Why me and why now?'" said Nicole. "I had a fiancé and a two-and-a-half-year-old daughter at home who needed me – I could not lose my life now."
The biopsy results showed Nicole had Triple-Negative Breast Cancer – an extremely aggressive cancer type that requires an extremely aggressive treatment plan. She met with Sylvia Richey, MD, Medical Oncologist and Elizabeth Pritchard, MD, Surgical Oncologist to have her portacath surgically inserted. In January of 2015, she began the first of sixteen rounds of chemotherapy – first administered every two weeks and advancing to every week – lasting six months. 
Those six months were filled with overwhelming obstacles from nausea and soreness to the loss of her hair and impending thoughts of possible breast removal. Nicole knew a large part of her recovery rested on her positivity throughout the journey – positivity that was made possible with the help of her support system. 
Nicole underwent genetic testing which tested positive for the BRCA 1 gene – a genetic mutation that increases susceptibility to both breast and ovarian cancers. With a significantly high risk of breast cancer recurrence, she underwent a bilateral mastectomy in July of 2015. Six weeks later, she had a preventative full hysterectomy. "We have one daughter," said Nicole. "And I was willing to do everything in order to stick around to see her grow up." 
Following a visit with Dr. Richey, she was finally given the good news she'd been longing for: she was in remission and had won her Fight. After her final surgical reconstruction in November of 2015, she only visits for check-ups every three to six months – living cancer-free. Nicole got married – to the love of her life – and celebrated her daughter's fourth birthday in April of 2016. "Looking back on everything, I can't believe I made it – but I am certainly glad it's over," said Nicole. "However, I miss seeing the friendly faces of staff and patients at West Cancer Center – those that became more like family, Fighting alongside me."
Meet Our Fighters
These are real stories of bravery, the chronicles of men and women who found the strength to fight on and the people who stood by them. West Cancer Center brings the very best technology, research and doctors to Memphis so patients can recover close to home. To read more stories like Nicole's, click here. 
Share Your Story
With every fighter there is a story, and with every story, an inspiration to fight on. Your story can be the difference in the life of another cancer fighter like you. We invite patients of the West Cancer Center, past and present, to share stories here. If you would like to share your story, please contact West Cancer Center's Marketing Department.