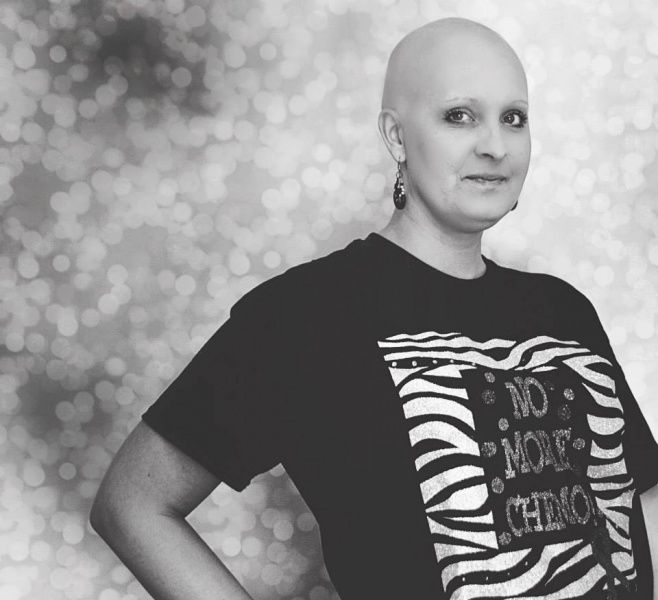 For five years, I have helped out with the annual CrossRidge Community Hospital breast cancer luncheon without knowing I would be the key speaker this year.
I want to promote young people to go get their mammograms. If they have a suspicious spot, a lot of young women dismiss it. You do not want to think at 30 years old that you could have cancer. I think it's more prevalent in younger women and it needs to be discussed. Younger women and even middle-aged women think they're fine. I don't want to scare them, but I want to create an atmosphere if you have any little thing out of character, go get it checked out. I want to raise awareness for the younger generation.
I would have never thought I would have cancer. I am married to my husband Travis of 14 years and have three sons, Ty (13), Tate (7) and Tucker (5). I was diagnosed with breast cancer in May after having what I thought was a caffeine knot. I didn't go to the doctor about it immediately but had scheduled an appointment for it six weeks out. The pain became annoying so I decided to have it looked at. Pay attention to your body because mine was burning. People will tell you cancer does not hurt. Mine hurt and it burned. I listened to a survivor speak at a previous breast cancer awareness program and she said, "Do not let anybody tell you cancer does not hurt." If she had not said that, I would have dismissed it as a caffeine knot. In the back of my mind, I knew it was something I needed to get checked out.
The day I needed to get in for a mammogram and ultrasound, the radiologist at CrossRidge stayed later for me that day and worked me in. They got me from A to B so fast and were very professional. I'm very thankful! They were attentive and professional. Once I had a mammogram on May 21, I was sent to Dr. Roy Oswaks with The West Clinic in Memphis for a biopsy. On June 4th I got the call everyone dreads when his nurse told me the biopsy was cancer. At age 33 I was diagnosed with Stage 2A invasive ductile carcinoma. Dr. Oswaks and his staff were so personable and unlike most people, I actually enjoyed my visits to his office. Dr. Oswaks performed a radical mastectomy on June 13, and then turned me over to my oncologist, Dr. Bradley Somer. Dr. Somer is always smiling and kind of quiet but maybe he is quiet because I don't allow him to speak!! I have been known to enjoy talking! Dr. Somer looked over my case and chose TC taxotere and cyclophosphamide as his chemo of choice. I was given 4 treatments intravenously and my last day of chemotherapy was Sept. 12!
The environment at The West Clinic is very professional and sincere. I am so glad to have a top notch facility in Memphis that can be utilized by me and all other cancer patients in the surrounding area. I had it on my own left breast. My right one was healthy, but I took it off anyway. The preference is upon each person. I thought it would be better for me because I would worry constantly would it show up on the right side. I was tested for BRCA1 and BRCA2, genes that can lead to breast cancer, and tested negative. I'm adopted so my background and history are vague. My doctor decided to do a six gene test on me. All genes were negative! I don't have to worry about it being a genetic problem and passing it on to my three sweet boys. To celebrate the end of my treatments, I hosted a "Pink Party" Friday night, Oct. 4. Guests brought hats, scarves, wigs and blankets to be given to the Wings Cancer Foundation, which is located inside of the West Clinic. I have to say I was overwhelmed with the support and donations of my local community! This could become an annual event for me!! The foundation helps meet the physical, emotional and spiritual needs of cancer patients and their families. I'm also taking donations at the Cross County Chamber of Commerce where I work and will deliver all of the items to Memphis. The foundation gives to anybody and does not ask about financial status. You can walk in there and say you need a wig. They will fit you for one and they will give it to you. A woman worries about the way she looks. Her appearance is 75 percent of the way she feels. I don't mind going bald, but sometimes you don't want to draw that attention. Wings helped out 47 families last year who were unable to afford any type of extra outside of having cancer treatments.
One of my biggest achievements was being able to ring the bell after my treatments were done. After you finish your chemo treatments, they stand you up in the room and say, "Congratulations, this is your last treatment." You receive a certificate and walk outside to a little park and get to ring the bell. I never thought that would be such a goal to be able to do. It becomes something special to everybody there. There were people sitting in chairs, watching me ring the bell. They want their time to ring the bell.
I believe God brought me to this point and prepared me to share my story. I sat there for five years at the luncheon and heard every survivor's story. I felt like that gave me hope. That's why we do this luncheon to give others hope. People think they're alone, but the statistics are 1-in-8 women will be diagnosed with cancer in their lifetime. God is and has been my strength through this trial in my life. I am very thankful to have a faithful God along with all of my family and friends because no one should take this journey alone.
Meet Our Fighters
These are real stories of bravery, the chronicles of men and women who found the strength to fight on and the people who stood by them. West Cancer Center brings the very best technology, research and doctors to Memphis so patients can recover close to home. To read more stories like Melody's, click here.
Share Your Story
With every fighter there is a story, and with every story, an inspiration to fight on. Your story can be the difference in the life of another cancer fighter like you. We invite patients of the West Cancer Center, past and present, to share stories here. If you would like to share your story, please contact West Cancer Center's Marketing Department.