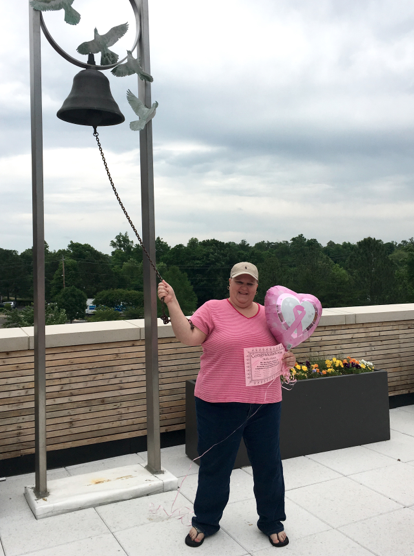 "I was lucky enough to be referred to West Cancer Center. But even if I hadn't been, I believe I still would have chosen to come here – for the reputation it has. When you hear people talk about adult cancer care, you always hear praises about West Cancer Center."
In October of 2015, a mobile mammography unit parked outside Melba's church caught her eye. At 52 years old, Melba had never before had a mammogram – with no family history of cancer, the chances didn't seem likely – so she drove past the mobile unit. Shortly after arriving home, a gut feeling made her go back and get screened, after which she was told to expect results in the mail two weeks later. When she received those results only four days later, she knew she wasn't ready for what would soon follow. The results showed an abnormality with instructions to proceed with further diagnostic testing at the Methodist Breast Center, where a lump was then detected. Melba was referred to Richard Fine, MD, a Breast Surgeon at West Cancer Center, who diagnosed her with Triple-Negative Invasive Ductal Carcinoma. Treatment for this aggressive type can be especially challenging due to the fact that these cancer cells lack Hormone Epidermal Growth Factor Receptor 2 (HER-2), Estrogen Receptors (ER) and Progesterone Receptors (PR) – which are the target of the most common and most effective forms of therapy. Despite the genetic tests showing Melba did not carry the associated gene mutation, the testing itself was crucial for discovering the best form of treatment.
In order to keep her daughters focused on their upcoming semester final exams, Melba kept her diagnosis a secret from everyone except her husband and parents – until her daughters finished their exams. With Christmas soon approaching, she wanted to prolong treatment until a while after the holiday season. However, Dr. Fine had other plans – plans that couldn't wait. 
"To this day – throughout all of my cancer journey – I will still say that was by far the hardest part – telling my daughters I have cancer."
One week after Christmas Day, Melba began receiving multiple rounds of chemotherapy to reduce the size of the tumor and destroy the rapidly replicating cancer cells. Melba successfully completed her last round of chemotherapy in May of 2016 and – surrounded by family, friends and her medical team – celebrated by ringing the bell which has long-symbolized the completion of treatment and survivorship. 
Meet Our Fighters
These are real stories of bravery, the chronicles of men and women who found the strength to fight on and the people who stood by them. West Cancer Center brings the very best technology, research and doctors to Memphis so patients can recover close to home. To read more stories like Melba's, click here. 
Share Your Story
With every fighter there is a story, and with every story, an inspiration to fight on. Your story can be the difference in the life of another cancer fighter like you. We invite patients of the West Cancer Center, past and present, to share stories here. If you would like to share your story, please contact West Cancer Center's Marketing Department.