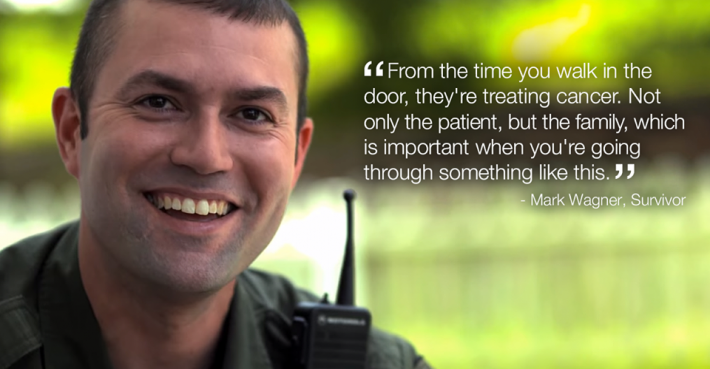 Mark is trained to protect lives. But he never thought he would have to fight for his own.
It was overwhelming for his wife and shocking to him. At 30 years old, Mark was diagnosed with testicular cancer. But with two small children and another on the way, they knew that they not only had to fight his cancer, they had to beat it.
They chose The West Cancer Center to be their fighting partner. Its reputation for excellence is nationally renowned. The doctors there are regarded as among the best. But what impressed Mark was the personal attention dedicated to him. He never felt alone. And because he was always close to home, he was able to be at his wife's side for the birth of their third child, even though he was in the middle of treatment.
"If you have cancer, you want to be at the best place. When that place is close to home, it's even better."

Meet Our Fighters
These are real stories of bravery, the chronicles of men and women who found the strength to fight on and the people who stood by them. West Cancer Center brings the very best technology, research and doctors to Memphis so patients can recover close to home. To read more stories like Mark's, click here.
Share Your Story
With every fighter there is a story, and with every story, an inspiration to fight on. Your story can be the difference in the life of another cancer fighter like you. We invite patients of the West Cancer Center, past and present, to share stories here. If you would like to share your story, please contact West Cancer Center's Marketing Department.