Meet Larry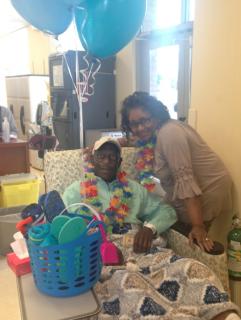 Larry wasn't going to let cancer keep him from living his life to the fullest.
Diagnosed with multiple myeloma in 2006, Larry became a patient at our West Cancer Center location in Desoto. For him, this meant he had the comfort and convenience of being treated near home while still having access to our collaborative team of expert physicians and scientists. 
When Larry's cancer reached the terminal stages, the teams of Drs. Benton Wheeler and Jason Chandler sent in his application to Dream Foundation – the only national dream granting organization for adults – to improve the quality of his life in a way medicine alone cannot. In April 2016, our team at Desoto was able to celebrate Larry with cards, beach accessories and plane tickets for him and his wife. Because of the passionate team at West Cancer Center, Larry was given time to spend with his family with the constant assurance that he will not finish this fight alone.
Meet Our Fighters
These are real stories of bravery, the chronicles of men and women who found the strength to fight on and the people who stood by them. West Cancer Center brings the very best technology, research and doctors to Memphis so patients can recover close to home. To read more stories like Larry's, click here. 
Share Your Story
With every fighter there is a story, and with every story, an inspiration to fight on. Your story can be the difference in the life of another cancer fighter like you. We invite patients of the West Cancer Center, past and present, to share stories here. If you would like to share your story, please contact West Cancer Center's Marketing Department.