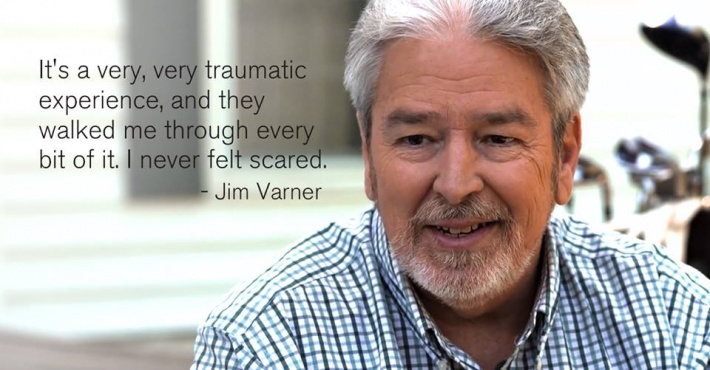 What began as a sunny afternoon cookout became a fight for his life.
Life couldn't have been better for Jim. Even his golf game was good. Then one day, as he was preparing the grill for an afternoon cookout, his wife noticed that his skin color was strange. Jim doesn't procrastinate. He immediately had himself checked out by his physician to see why his skin had turned yellow.
Jim was shocked when he was diagnosed with pancreatic cancer. He wanted answers. He first turned to where you are now: the Internet. What he found was discouraging. Pancreatic cancer, as it turns out, has one of the highest mortality rates. But instead of giving in, he went to the West Cancer Center and discovered that they had a plan in place to treat him. With the right technology and his wife nearby, he had the confidence to take a swing at cancer.
"My advice? Don't procrastinate. If something is wrong, get yourself checked out. The sooner you can be treated, the better chance you have to survive."

Meet Our Fighters
These are real stories of bravery, the chronicles of men and women who found the strength to fight on and the people who stood by them. West Cancer Center brings the very best technology, research and doctors to Memphis so patients can recover close to home. To read more stories like Jim's, click here.
Share Your Story
With every fighter there is a story, and with every story, an inspiration to fight on. Your story can be the difference in the life of another cancer fighter like you. We invite patients of the West Cancer Center, past and present, to share stories here. If you would like to share your story, please contact West Cancer Center's Marketing Department.