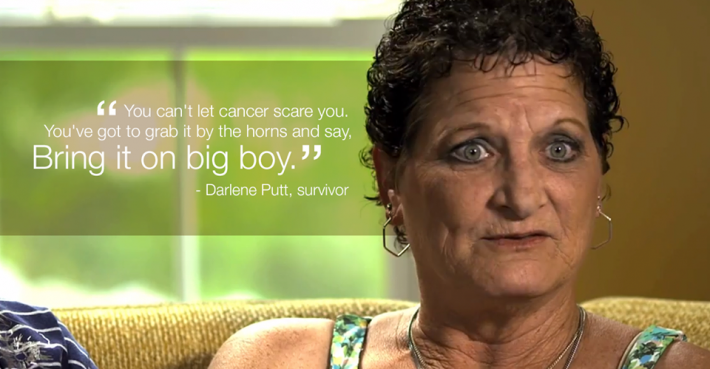 In the fight of her life, she needed a friend who would never leave her side.
Darlene never backed down from a fight. So when she was diagnosed with breast cancer in 2012, she wasn't even scared. She decided to take it on with the fire and enthusiasm she brought to every challenge. But even someone as strong as Darlene needed the right partner to help her through it.
Sarah turned out to be just the right partner. She worked with Darlene and was the staff nurse who made the fight easier. When Darlene was confused about her treatment, Sarah was there to explain. During the few moments when Darlene cried, Sarah was there to comfort her. When Darlene rang the bell that signified the completion of her treatment at the West Cancer Center, and Sarah was among the first people she hugged.
"Losing my hair was not bad! We shaved off my hair and made it a party."

Meet Our Fighters
These are real stories of bravery, the chronicles of men and women who found the strength to fight on and the people who stood by them. West Cancer Center brings the very best technology, research and doctors to Memphis so patients can recover close to home. To read more stories like Darlene's, click here.
Share Your Story
With every fighter there is a story, and with every story, an inspiration to fight on. Your story can be the difference in the life of another cancer fighter like you. We invite patients of the West Cancer Center, past and present, to share stories here. If you would like to share your story, please contact West Cancer Center's Marketing Department.