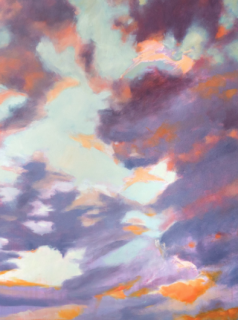 ARTIST: Jimpsie Ayres
TITLE: "Fly I, Fly II"
Location: 2nd Floor - West Atrium Hall

"Fly I, Fly II" is an outgrowth of Jimpsie Ayres' hope for the future of West Cancer Center. Her hope is that when you look at these paintings, that you will contemplate what could happen if we look beyond our present reality; if we can rise above the 'sad divisions' that afflict us, if we transcend the tragic history of the past, and pull together to give our city a beautiful tomorrow.
"It is my fondest wish that this thoughtful and beautiful collection will give patients some comfort, a way of transcending the everyday and looking to a more hopeful tomorrow," said Ayres.